In addition to the feature film starring Ryusei Yokohama, the live-action adaptation project based on Toshio Sako's gambling-themed manga Usogui (The Lie Eater) will also get a four-episode spin-off web drama series starring Hayato Sano (Yu Ishigami in the Kaguya-sama: Love Is War live-action films) and Mai Shiraishi (ex-Nogizaka46 member).
Sano plays Takaomi Kaji, a young man who changes his debt-ridden life and rises through the ranks of the underworld after meeting the protagonist Baku Madarame. Shiraishi is cast as Ranko Kurama, a crazy sadistic female leader of a yakuza clan. The two play the ultimate death games for what they each owe: a best friend, a scumbag parent, and an irresistible past.
Hideo Nakta (the Ring series), who directed the features film, supervises the web drama. The Takaomi Kaji arc is based on a popular episode from the original manga, while the Ranko Kurama arc tells a completely original story. The four-episode series will be posted on dTV simultaneously on the film's release day in Japan, February 11, 2022.
Trailer:
Key visual with a tagline "Are you ready to eat a lie?":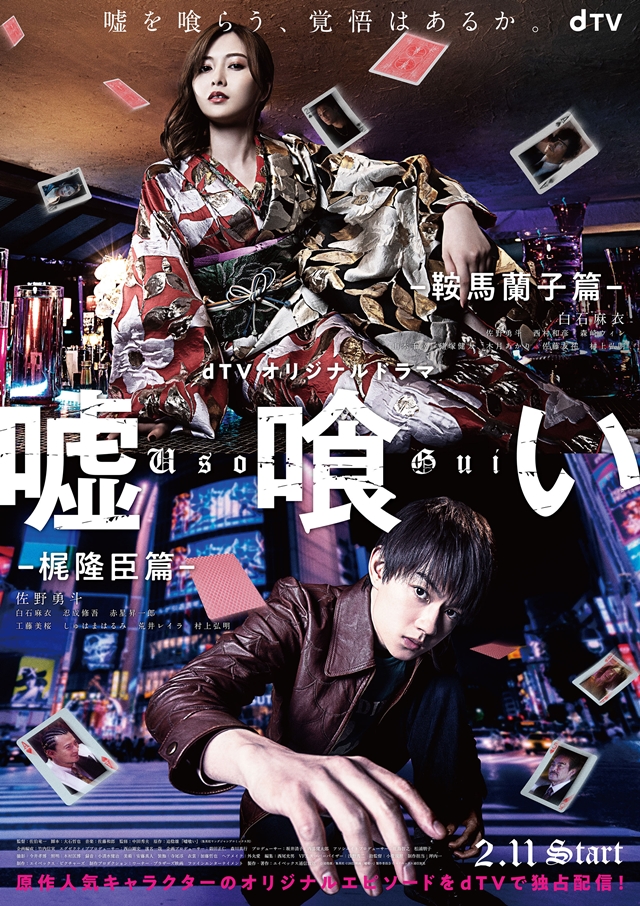 ---
The feature film's story centers on a high IQ genius gambler, Baku Madarame, who is called Usogui (The Lie Eater), in a head-to-head psychological battle for life and death with top cheaters at Kakerou, a black-ops club that controls Japan's political and business world. 25-yesr-old Ryusei Yokohama (Hikari Nonomura / ToQ 4gou in the 2014 Super Sentai TV series Ressha Sentai ToQger) is cast as the protagonist Baku Madarame.
The feature film's full trailer: 
Main poster visual with the tagline: "You're a liar."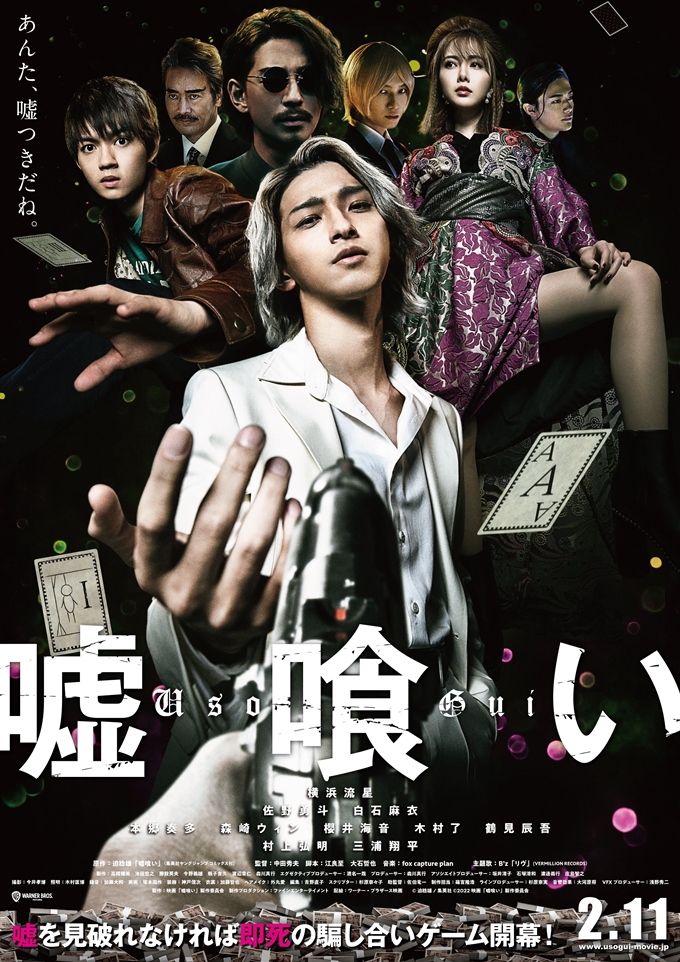 ---
Source: avex press release, Cinema Today official YouTube channel
©Toshio Sako/SHUEISHA ©2022 Movie "Usogui" Production Committee