The official website for the feature film BanG Dream! Poppin' Dream! has announced that it will be screened with an extra footage featuring the members of Poppin'Party will begin on January 14, 2022. The price for the special screening is 2,000 yen, 100 yen more than the normal price in Japanese cinemas.
The five-members who will appear in the extra footage to be screened after the film are – Aimi (Kasumi Toyama), Sae Otsuka (Tae Hanazono), Rimi Nishimoto (Rimi Ushigome), Ayaka Ohashi (Saya Yamabuki), and Ayasa Ito (Arisa Ichigaya), so it is expected to be a live-action footage.
The 71-minute that tells the five members of Poppin'Party's pleasant stay in Guam  was released in 105 theaters across Japan on January 1, 2022, then made its 10th place debut in the weekend box office ranking. Data on the total box office performance to date has not yet been disclosed.
Long PV:
First part of the film:
TV CM:
Key visual: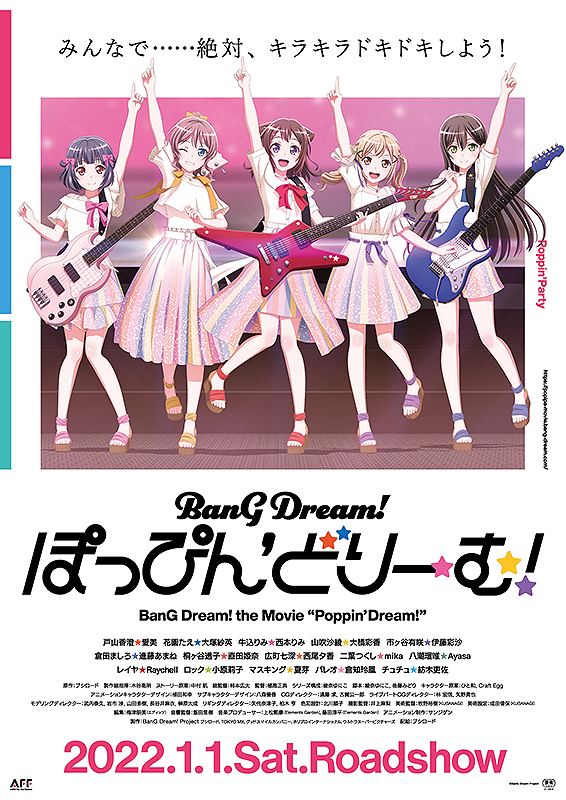 "BanG Dream! Poppin' Dream!"
https://popipa-movie.bang-dream.com/
Original story: Bushiroad 
Anime production Sanjigen
Distribution: Bushiroad 
General Director: Koudai Kakimoto (BanG Dream! 2nd/3rd Season)
Director: Masanori Uetaka (Sanjigen)
Series Composition: Yuniko Ayana (BanG Dream! 2nd/3rd Season)
Screenplay: Yuniko Ayana, Midori Goto
Music: Elements Garden
---
Source: Bushiroad press release
(c)BanG Dream! Project ©Craft Egg Inc. ©bushiroad All Rights Reserved.