Hideyuki Kikuchi's dark futuristic novel series Vampire Hunter D has taken many forms over the years: animated films, a video game, manga, and English-language comics, for starters. Next month, it will be reborn as an English language audiobook series from GraphicAudio.
The company (with the tagline "A movie in your mind") specalizes in full-cast audiobook dramatizations with music and sound design. Vampire Hunter D will join the ranks of other Dark Horse adaptations in their catalogue, including issues of The Mask and X.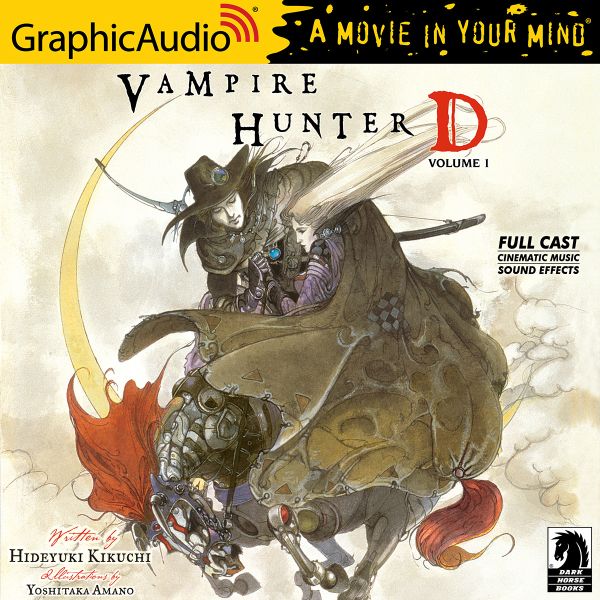 So far, adaptations of the first three volumes have been announced: the original Vampire Hunter D (available December 15), Raiser of Gales (January 26), and Demon Deathchase (February 24). All three feature Yoshitaka Amano's iconic cover art, and will be available via the GraphicAudio Access™ app. CD editions of each release will be available the following month.
This won't be the first audio outing for the series. There was a run of audio dramas in Japan, featuring many of the voice actors from the original film.
GraphicAudio describes the first volume of Vampire Hunter D:
12,090 A.D. It is a dark time for the world. Humanity is just crawling out from under three hundred years of domination by the race of vampires known as the Nobility. The war against the vampires has taken its toll; cities lie in ruin, the countryside is fragmented into small villages and fiefdoms that still struggle against nightly raids by the fallen vampires-and the remnants of their genetically manufactured demons and werewolves.
Every village wants a Hunter—one of the warriors who have pledged their laser guns and their swords to the eradication of the Nobility. But some Hunters are better than others, and some bring their own kind of danger with them…
Vampire Hunter D in anime form is currently streaming on Netflix, Amazon Prime, and other services. Dark Horse is currently printing the books in omnibus form.
Source: @GraphicAudio on Twitter